Our laboratory was created to explore cancer at the genetic level, trying to predict how the disease might progress and how best to treat it.
About Sarah Cannon and its Research Institute
Sarah Cannon is the Cancer Institute of HCA. It offers integrated cancer services, with access to cutting-edge therapies, for hundreds of thousands of patients in the US and UK – a number unmatched by any single cancer centre.
Sarah Cannon Research Institute, the research arm of Sarah Cannon, is one of the world's leading clinical research organisations conducting community-based clinical trials. It has led more than 250 first-in-man clinical trials since its inception in 1993, and has been a clinical trial leader in the majority of approved cancer therapies over the last 10 years. In both the US and the UK, it provides thousands of patients access to hundreds of clinical trials each year – trials that could help or cure them. Sarah Cannon has been a clinical trial leader in the majority of cancer therapies over the last 10 years.
Our history
In 2013, HCA UK partnered with UCL's Advanced Diagnostics lab – known as UCLAD – to explore the latest developments in molecular pathology. This partnership created molecular pathology services within UCLAD, offering a range of NGS-based tests to clinicians around the UK. These services were the beginnings of our laboratory today.
In August 2016, HCA UK took full ownership of UCLAD's molecular pathology laboratory, in order to improve the commercialisation of existing tests in addition to developing new ones. They renamed the laboratory Sarah Cannon Molecular Diagnostics, or SCMD, to recognise the support that Sarah Cannon would offer. This combined expertise from UCL, HCA UK and Sarah Cannon is what makes our laboratory so special today.
Our technology
We focus primarily on the use of Next Generation Sequencing (NGS) technology because it allows us to analyse a large number of genes within a tumour simultaneously, gathering information about what may, or often equally importantly, may not be driving the cancer to growth spread, and thus whether certain treatments, either already approved or undergoing trials, might help to fight it. When new, successful technologies emerge, we'll try to improve patient outcomes further by exploring these too!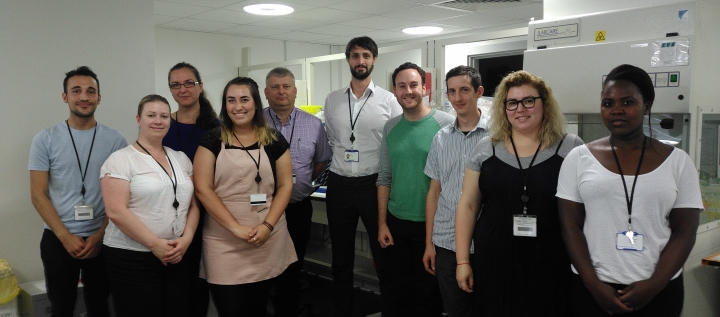 Dr Phil Bennett
Principal Clinical Scientist
Phil is the service lead for SCMD and has been a registered clinical scientist for nearly 20 years, applying the latest developments in molecular diagnostics across a range of service areas including microbiology, virology, clinical & forensic genetics and most recently molecular pathology.
Phil has overseen the launch and growth of the Next Generation Sequencing based tumour profiling service and the transfer of the business from UCL to HCA in 2016. With an increase in investment and resources arising from this transfer, Phil is now tasked with further expanding the business, both with regards to consolidation of existing service lines and the development of new ones.
A keen skier, canoeist and mountain biking, many of these hobbies have unfortunately been on the back burner since children arrived on the scene, but he still manages to find time to fit in some scuba diving both in the UK and further afield.
Dr Carolina Gemma
Research and Development Lead
Carolina has a PhD in Molecular Biology and more than ten years of experience in genomics, computational biology and molecular biology. She began her postdoctoral career at Queen Mary University of London, applying Next Generation Sequencing to study transcriptional, genetic and epigenetic processes, which are frequently deregulated in cancer.
She next worked for five years at Imperial College London, conducting research on breast cancer, where she made contributions to the identification of mechanisms of therapy resistance in metastatic breast cancer. A relatively new member to our team,  joining in July 2021, Carolina will be applying her extensive experience to our continuous service development commitment, constantly working to improve what we already offer, whilst also bringing new entirely solutions online as clinical needs evolve.
Outside work, Carolina enjoys playing classical music on the violin, being outdoors and playing tennis.
Ben Poskitt
Lead Bio-Medical Scientist
After graduating from the University of Hull, Ben joined Sheffield Teaching Hospitals as a trainee Biomedical Scientist. There he found his interests lay in solid tissue laboratory sciences. Qualifying in 2007, he moved to Imperial College Healthcare NHS Trust and gained experience of clinical immunohistochemistry. He subsequently did a part-time MSc in Cellular Pathology, with a project centred on acquired mutations in cancer.
Since joining our team, Ben has been the interface between solid tissue pathology and molecular genetics, relying on his laboratory experience in both disciplines. He's now continuing and expanding this role.
Ben is a motorcyclist, guitarist, and keen chef. A home brewer of craft beers, he can often be found conducting thorough research for his next recipe.

Dr Kevin Balbi
Bioinformatician
Kevin has a degree in Molecular and Cellular Biology and a PhD in Evolutionary Genetics. He held a research position at Imperial College, examining genetic diversity in soil bacteria, and has worked in a large data centre supporting server configuration and deployment.
He writes and maintains the informatics pipelines and IT systems that handle the vast amounts of data involved in genetic analysis. He has expanded existing pipelines to bring additional information into our reports, and has overseen construction of a new information management system.
Outside work, Kevin enjoys gaming, reading, and rambling. He volunteers running a Code Club at his local library, helping children learn to write computer programs.

Genomics Review Board
This is a team of world-renowned clinicians and scientists who support HCA clinicians and other customers by reviewing what can be quite complex outcomes from a range of genetic and other analyses, before recommending the best way forward.
Our board members understand which clinical trials are in progress, and which new technologies are becoming available – so their recommendations are always up to date with the latest thinking. Very few people in the UK can do what they do.
The Board is lead by Dr Tobi Arkenau and includes Prof. Charles Swanton and Dr Martin Forster amongst others.
Clinical Strategy Board
Our Clinical Strategy Board sets the overarching clinical strategy across all HCA Laboratories. Members meet regularly to review what's happening in the wider industry, and to agree which tests our own laboratories should develop and offer in response. The members are: